Blog
kitt

decided around 14:09 on 10 June 2011 to publish this:
After lunch today, as Mom and I were walking back to the Museum, she asked if I would mind a detour, she wanted to show me something. No, I didn't mind; sure, let's see what it is.
We walked to a house that was converted to a restaurant, walked up the porch and to a large ficus on the far side of the building. Mom commented, "Yeah, last time I was here, a hummingbird kept dive bombing me. I didn't understand why until a mom came up and asked if we would mind if she let her son take pictures. We looked up and saw the nest. At that point, you couldn't even see their beaks over the edge of the nest."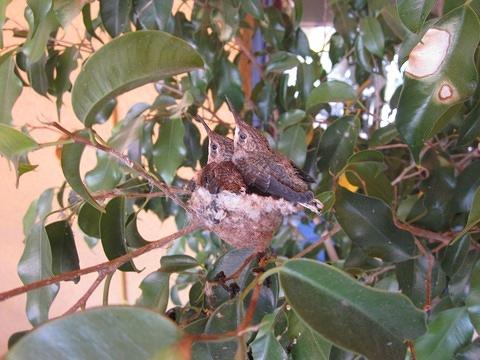 The baby birds were about 3 cm long, and just sat there as I shoved the camera up their beaks.
I worried about disturbing them too much, but managed not to do so, I think. This one was the best angle, even though it doesn't really show how tiny they were.