Blog
kitt

decided around 20:45 on 2 June 2013 to publish this:
Nicole and I went to see the San Francisco Dogfish game today. Dogfish are the San Francisco team for the new Major League Ultimate professional ultimate frisbee league. I wasn't sure what to expect, but was very excited to go watch high-level ultimate.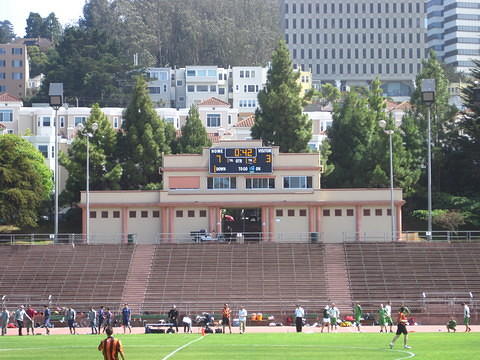 The game was a windy game. And how! Few of the upwind pulls made mid-field, with one rolling back to about 20m outside the attacking endzone. The game was high-level, to be sure, but I didn't feel overly impressed: it seemed similar to watching a game at Nationals. There were a number of great plays (a number of great layouts, players running down discs I thought there was no chance of reaching, incredibly accurate throws in the wind), and I was duly impressed with them, but it was still, in my mind, Nationals-level, not necessarily pro-level.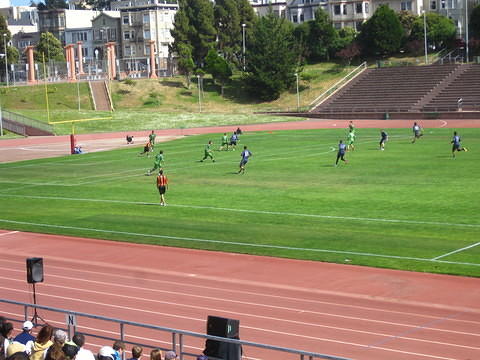 The crowd was much bigger than I was expecting: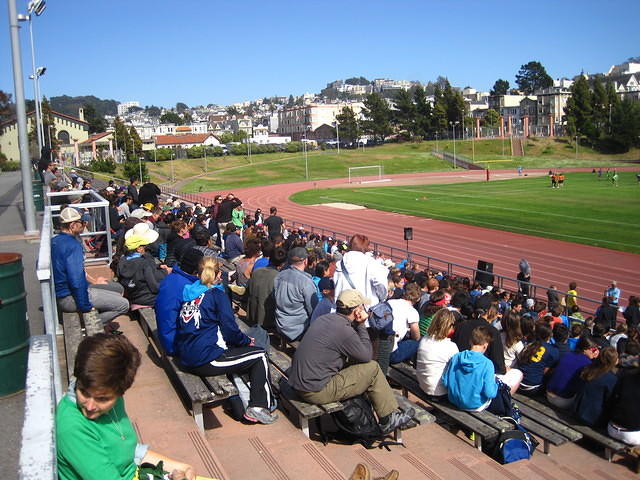 Yet, it was totally into the game. During the half time, Footloose was playing over the sound system. The bench in front of us all stood up and started dancing 80s style, Footloose style. I spent a long time laughing with them and their happiness.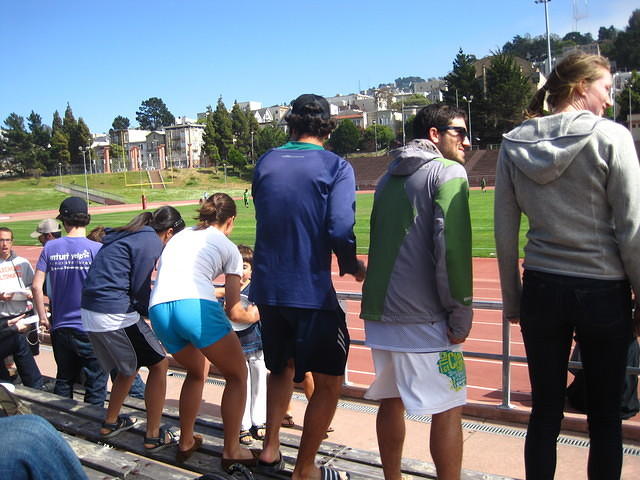 I really liked how the event was linked to a number of women's sports, given the Dogfish game was men-only. In particular, the game after the Dogfish game was a professional women's soccer game, AND the half-time event was a what-is-rugby demonstration from Cal's national champions women's rugby team.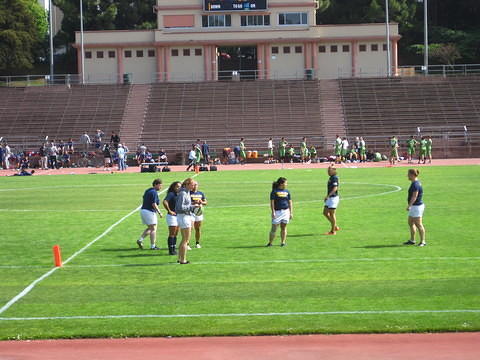 The top rugby players were off ambassador'ing for the sport, but the eight women that did demonstrate rugby to us were very enthusiastic. I was delighted to see that even non-athletic women were able to find a sport they love and embraced. Some of them were the antithesis of athlete, and yet they were out there playing. It was great to see.
At the end of the game, which Dogfish won 31-13, which was both the highest score in a game this season (therefore, EVER in the league) and the biggest differential between scores, both teams came out to the stands to sign discs. I really loved this part of the game. The players embraced the fans, especially the young ones. A lot of small kids, less than 10 years old or so, were excited to talk to the ultimate players, these approachable people who were out there playing this sport their parents played. How cool! I really liked that the players did the schmoozing.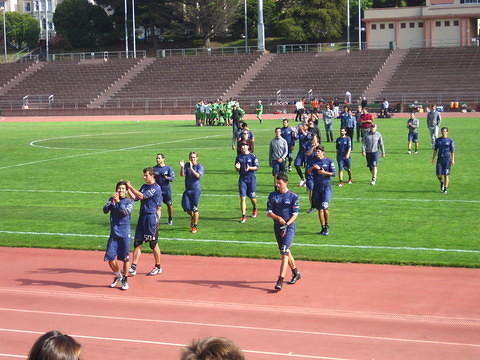 Okay, that all said, what did I really think of the experience?
I sat so far outside of my comfort zone at that game that I couldn't even see it any longer. I said hello to players I played with twenty years ago. I sat in front of a contingent of SBUL players that ALL knew me, and I had to struggle to remember their names. I talked with a half dozen MIschief folk, some who played after I had left and didn't know that I was a founding member of their team. I ran into to Bharat, and his new girlfriend, had no idea what to say, and was so stunned to see him that all I managed was a hello. I met up with players I haven't seen in 15 years, but who played with me when I first played disc in Northern California, and I didn't have the heart to say anything about my current personal issues. How were things? FANTASTIC, I lied. It was hard.
I found refuge in sitting with Keith and Katie, watching Mia run sprints up and down the stands and stairs. I'm not sure I thanked them for saving me in my overwhelmed state.
I went to watch the game, and the game was not what I knew. The referees called everything, fouls, the stall count, offsides. The players just play. Double teams were allowed, double, triple teams, all allowed. It looked like ultimate, and yet wasn't quite the same.
I went to watch the game, expecting to be a McQueen fan: knowing the game, and watching the strategy, the brilliance of the players; and instead received a Dan fan experience: non-player knowledge of the game, there with his friends, here have a beer.
It wasn't what I was expecting, I was overwhelmed and uncomfortable and very happy that Nicole was busy meeting up with players she's know for the two decades she's been playing. Of course, she's one of those people for me, played with 20 years ago.
There are times when life folds back on itself. Some of those folds are good. Nicole and Andy are two of those good fold-backs in life.
I'm still debating on the rest of the fold-backs I had at the Dogfish game.